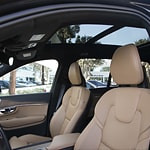 When you think of Volvo, safety is perhaps the first attribute that comes to mind. However, the popular Volvo XC90 luxury SUV is also known for its top performance. Here's a look at some of the notable performance features of the Volvo XC90 SUV.
The highlight powertrain of the XC90 is a hybrid system that provides up to 390 horsepower. This system can provide you with 50 kilometers of zero-emission driving. When you want to take over the left lane, the gas-powered engine comes through with excellent acceleration capability.
To ensure that your Volvo XC90 can conquer any terrain, the XC90 offers all-wheel-drive. This allows the XC90 to easily handle anything from rocks to gravel to sand. Also, the all-wheel-drive system will allow you to enjoy the XC90 during all weather conditions.
See what the Volvo XC90 can do today. We invite you to test drive the XC90 at Galpin Volvo in Van Nuys, CA.